If you're a regular Honeybadger user, you may have noticed that search looks a little different. We recently launched a new query builder that not only looks better, but also makes it a snap to construct the kinds of advanced search queries that let you dig down to find exactly the errors you're looking for. Here's what it looks like: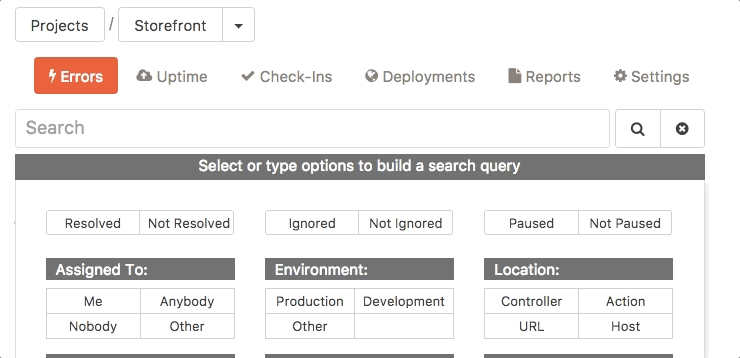 The back-story
Honeybadger's search back-end is pretty powerful, and has been for some time. Of course you can search for errors by name and message, but you can also find errors that affected a specific user, or that happened in a certain piece of code. But it was a pain in the neck to use. You had to dig through our docs, learn our query syntax and manually type in queries like occurred:[NOW-1DAY to NOW] -is:ignored.
The new search builder makes it much easier.
Just click on the search box and you'll be presented with a palette of attributes to search for.
Click on an attribute like "assignee" and you'll be shown a menu of possible choices.
Click on a date attribute and you'll be shown a calendar.
If you prefer to type, we've also got you covered with features like auto-complete, and tab navigation between search terms.
The future
We're not done yet. We want to use auto-complete in more places. And we want to make the experience of looking for specific error occurrences easier, possibly brining the search bar into the error details page so you can filter occurrences for a single error.